Cutting-edge technologies of new ships
You can see Tsuneishi Shipbuilding's new ship-related cutting-edge technologies.
Energy-saving technology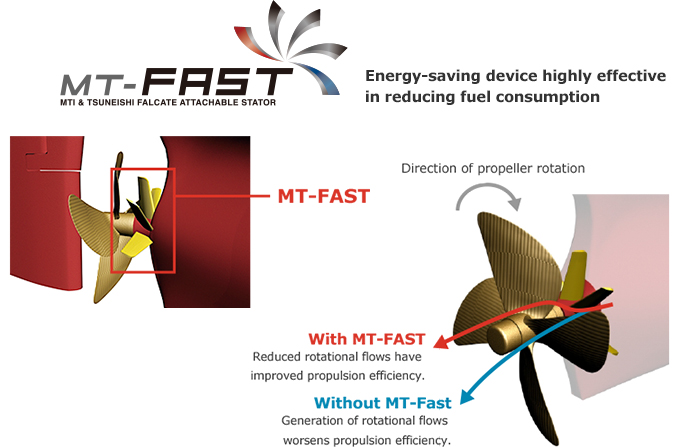 MT-FAST is an energy-saving system where the attachment of plural fins in front of a propeller enables the energy loss due to rotational flows of the propeller to be recovered by 3–5%. It is small and versatile as well as very easy to install, justifying expectations for its effective saving of fuel in not only newly built but also existing ships.

At sea, the speed of a ship is slowed by the wave resistance at its bow. Hence, with the bow's water plane shape sharpened, CFD calculations taking waves into account and model experiments in waves were conducted in cooperation with Hiroshima University, resulting in the successful development of SEAWORTHY, reducing the increase in resistance due to waves (sea margin) by some 5%. This has been commercialized as a technology that allows sea margins at sea to be narrowed.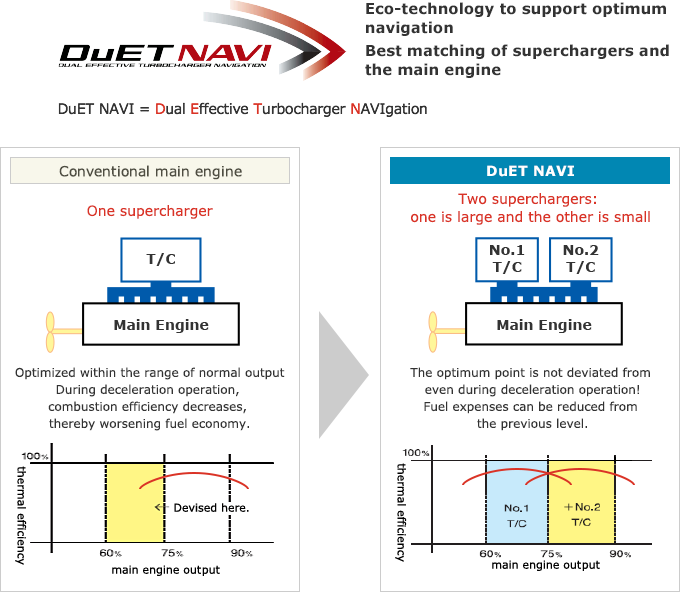 "DuET NAVI" is an energy saving technology that permits high combustion efficiency to be obtained within a wide range of main engine output by using two different-size superchargers for the main engine.
A fuel consumption reduction effect can be realized, particularly during deceleration operation.