Our largest strengths – diverse product lineup and global shipbuilding network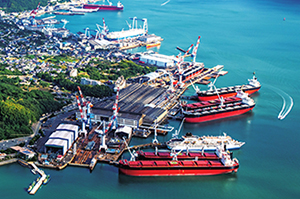 TSUNEISHI SHIPBUILDING conducts business from four bases: the TSUNEISHI Factory (Fukuyama City, Hiroshima Prefecture, Japan); TSUNEISHI HEAVY INDUSTRIES (CEBU), Inc. (Cebu Island, the Philippines); TSUNEISHI GROUP (ZHOUSHAN) SHIPBUILDING, Inc. (Zhoushan City, China); and ASTILLERO TSUNEISHI PARAGUAY S.A. (Central, Paraguay).
Since our founding as builders of wooden ships over a century ago, we have aggressively expanded abroad. Driven by our unwavering and challenging spirit for shipbuilding, we have consistently evolved into the industry leader we are today.
In the 1990s, we expanded to the Philippines. Despite the absence of successful precedents for overseas expansion in the shipbuilding industry, we forged ahead and developed foundations for later expanding to China and Paraguay. We have established a competitive edge with cost-efficient operations and tolerance for exchange fluctuations, while retaining a global shipbuilding network to provide ships with consistent TSUNEISHI quality from our domestic and overseas bases.
With bulk carriers as our core product, we also have a lineup of container carriers and tankers to accommodate diverse market needs. The best-selling 82,000 DWT bulk carrier Kamsarmax, (within 10 years over 200 vessels completed since its debut in 2005) boasts the top global share in its category and is now well recognized as the industry standard.
TSUNEISHI SHIPBUILDING has flexibly managed the changes required to expand. With a perspective on the future, we will continue to amass all our technologies, fully devote ourselves to proposing and building cutting-edge vessels that accommodate the needs of the era, and create new value.
Company Name
TSUNEISHI SHIPBUILDING Co., Ltd.
Representative
Kenji Kawano, President
Field of Business
Shipbuilding, repairs
Commenced Business
July 1917
Founded
January 4, 2011
Capital
JPY 100 million
Fiscal year
December
Sales
153,100 million yen (Total of consolidated subsidiary of Shipbuilding business in fiscal year 2018)
Employees
883(as of December 2018)
Affiliated Companies
58 companies / about 1,200 employees(as of December 2018)
Head Office / Tsuneishi Factory
1083, Tsuneishi, Numakuma-cho, Fukuyama city, Hiroshima 720-0393, Japan
Tel: +81-84-987-1101
Fax: +81-84-987-0773
Tokyo Branch
Ichibancho-Daini-TG Bldg. 5F, 2-2, Ichiban-cho, Chiyoda-ku, Tokyo, 102-0088, Japan
Tel: +81-3-3264-7715
Fax: +81-3-3264-7712
Fukuoka Office
TNC Broadcasting Hall 19F, 2-3-2 Momochi-hama, Sora-ku, Fukuoka 814-0001, Japan
Tel: +81 (0)92-832-3890
Fax: +81 (0)92-832-3883