Sending ships with Tsuneishi quality to the seas of the world through strong partnerships with our overseas locations.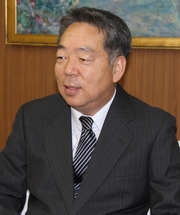 From the time of our founding, TSUNEISHI SHIPBUILDING has been delivering ships of high quality to the world, while continuously striving to be a company admired loved by our customers, the local community, and our employees. In order to create even better ships, we listen closely to our customers. We promote the development of new types of vessels as well as technologies that help to reduce environmental burden, as we endeavor to provide ships that are appropriate to the social environment.

In an age when global competition is becoming increasingly fierce, our production sites in the Philippines and China have built their capabilities to the point that our entire production system, including these overseas sites that have mastered the principles of Tsuneishi quality, have come to earn the strong trust of our customers. I believe that this collective strength of TSUNEISHI SHIPBUILDING is a testament to our efforts in taking on challenges, and serves as a source of strength for us.

In order to become even stronger as a company, we also need to work with outside organizations. We will bring innovations to our productions and technologies through joint research with universities and other research institutions, as well as through efforts made in partnership with shipping companies and marine equipment companies. We will also make fearless and undaunted efforts to improve such critical issues as safety, ship operation profitability, and cargo handling efficiency.

We will focus on transferring our skills and expertise to our overseas production sites, while combining our experience and skills with the creative ideas of the younger generations, and merging these together with the best technologies. Thus, we will set our sights on the next one hundred years by continuing to take on the challenge of "building ships the Tsuneishi way" as we seek to grow together with the local community.