With the mission to support global maritime logistics in mind, TSUNEISHI would build the ships that exceed customers' expectations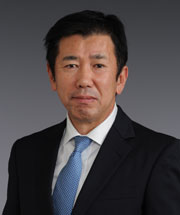 TSUNEISHI SHIPBUILDING has always been leading new trends.

Our unique strengths include the TESS and KAMSARMAX bulk carriers which have become the de facto standards of shipbuilding industry, and the early stage business expansion of our shipyards to overseas. We would like to express my sincere gratitude to all of our customers, local community people, etc. who have supported us to develop and grow.

However, we are not satisfied with the existing state. Looking ahead to the future, we will do best to build up "Next Generation TSUNEISHI SHIPBUILDING".

The environment for the Japanese shipbuilding industry is becoming increasingly severe. Thus, it is essential to realize maritime logistics with both reduction of burden on the global environment and high economic efficiency. By adopting new technologies with flexible ideas without being constrained by conventional ideas, and interacting with various people, we would be able to build up a TSUNEISHI SHIPBUILDING with unparalleled strengths, and keep on progressing.

We will continue to lead the world with TSUNEISHI's ships and services that exceed our customers' expectations.