"TSUNEISHI Technical Olympics (Tsuneishi Factory)" Technical skills competition held on October 31st
Tsuneishi Shipbuilding Company of TSUNEISHI Holdings Corporation (Head Office: 1083 Tsuneishi Numakuma-cho Fukuyama-city Hiroshima, CEO: Takao Kawamoto) will hold the "TSUNEISHI Technical Olympics" from 8 a.m. on October 31st (Sat.) at Tsuneishi Factory. Participants will compete at technical skills crucial to shipbuilding, including such skills as welding, coating painting, and carrying. Under the theme "Mindful Technique" to train technicians to improve mindful techniques, 9 types of competitions for skills including welding and coating painting will be held.
The Tsuneishi Technical Olympics started in 2001 to showcase welding skills. In the second year, ironworking skills were added to the program of competition. In the third year, coating painting, rigging, and carrying skills were also added and the Olympics became a major event for the whole factory. In 2009, about 250 participants will compete at the Tsuneishi factory.
-Note-
| | |
| --- | --- |
| Date: | October 31st (Sat.) 2009 |
| Opening Ceremony : | 8:00 a.m. to 8:30 a.m. |
| Competition : | 9:00 a.m. to 11:00 a.m. |
| Judging : | 11:00 a.m. to 11:30 a.m. |
| Announcement/Closing Ceremony : | 11:30 a.m. to 12:00 |
[Categories of Competition]
Carrying with a ceiling crane
Assembling small parts
Welding
Forklift 0perating
Supplying power source
Blush coating and etc.
(9 tyoes of competition)
[Competition for Public]
Visual estimation of height and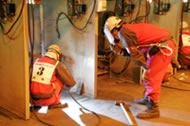 Technical Olympic in the last year